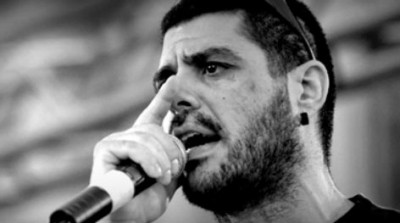 It has been 3 years since the death of Killah P (Pavlos Fyssas).
Late at night on 17th September 2013, Killah P, a 34-year-old anti-fascist rapper, was stabbed to death by Giorgos Roupakias, member of the neo-Nazi party Golden Dawn , in front of the eyes of the police.

Pavlos was hanging around in his neighbourhood with his friends in a cafe that day, and when they got informed about this, a group of 50 people, members of Golden Dawn came to the neighbourhood after taking orders from higher members such as Giannis Lagos, Christos Pappas and Nikos Mixaloliakos (leader of Golden Dawn).
Pavlos was there, trying to protect his friends, asked them to leave and tried to delay the attack. Although he fought bravely, with his own hands, with his own courage, Roupakias came close and stabbed him. (police there, doing nothing ok?)
After Pavlos death, thousands of people reacted to the cruel actions of Golden Dawn and although Greece has had always a strong anti-fascist movement, from that time onward..the movement has grown more and more and still keeps growing, making clear every day, that there is no space for nazis here. However, there is no reason to feel safe. Golden Dawn was the third strongest party in the last elections in Greece. There are many who do not only support this party accidentally but continuously.
Nonetheless, it was the people's anger that made the case big, and made sure that Pavlos will never be forgotten and what Nazis are doing will never be forgiven.
It was the people's anger that led to the sentencing of several Golden Dawn members to one and a half year in prison.
It was the people's anger…after a long fight….that led to a huge trial, an historical one, against 69 Golden Dawn members, including their leader Nikolaos Michaloliakos, on charges of running a criminal organization. The case file of charges against them ran to over 30,000 pages, including the murder of Pavlos Fyssas, of course.
It was the murder of Pavlos Fyssas that opened the fire of direct action against neo-Nazis more than any other time in the last decades…
But unfortunately, Pavlos was not the only case…and will not be the only case…
As long as there is any space for the existence of Nazis, or Nazi ideas or fascism, it will not be safe for no one. It will not be safe as it was not for millions of people and families who were killed by Nazis…For people that are suffering every day because of fascism.
Today is the day of Pavlos.
And Pavlos will stay forever in our hearts and in our minds.
And every victim…
WE WILL NOT FORGIVE, WE WILL NOT FORGET.
EVERYONE OF US HAS TO TAKE POSITION.
BE ACTIVE.
FIGHT FASCISM.
R.I.P. KILLAH P.
The future ist still unwritten and WE are going to write it…………..
Listen to 2 of his songs with subtitles:
https://www.youtube.com/watch?v=qUVGzyrUmgA
https://www.youtube.com/watch?v=II0tV-utYbQ
Read more about that night at wiki: Murder of Pavlos Fyssas
FB pages:
https://www.facebook.com/denksexname?fref=nf
https://www.facebook.com/Goldendawnwatch